CELEBRATIONS will be held at The Hive, the county's largest library and the only fully integrated university and public library in Europe, to mark its 10th birthday this July.
The Hive At 10 Celebrations marks a successful 10-year partnership between the University of Worcester and Worcestershire County Council.
This milestone is being celebrated with a series of events and exhibitions that showcase what The Hive has to offer, past, present and future. Kicking off this month, activities range from the launch of a poetry library, workshops with a children's illustrator, digital drop-in sessions and a Heritage Jubilee Exhibition.
Opened by Her Majesty The Queen in July 2012, as part of her Diamond Jubilee tour, it is fitting that The Hive will be celebrating the Platinum Jubilee this year with an exhibition charting The Queen's visits to Worcestershire over the past 70 years.
The exhibition starts with her visit in 1951, whilst still a Princess, and runs through to 2012 when she officially opened the only fully integrated university and public library in Europe. Photos within the exhibition have been sourced from collections across the county including historical societies, local libraries and Worcestershire Archive & Archaeology Service's 12 miles of archives located at The Hive.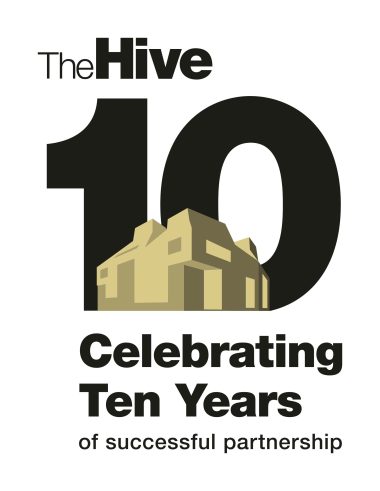 Professor David Green CBE DL, Vice Chancellor and Chief Executive of the University of Worcester, said: "The Hive is a shining example of what can be achieved when organisations come together for the good of the wider community.
This transformative partnership has had a profound impact on the city, the wider region and many individuals.
"Over the past 10 years, it has become a real beacon of success, a place where children, students, business people and citizens can come to be inspired, to learn and to share."
Since The Hive opened it has welcomed 6.3 million visitors, signed up 160,000 new library members, loaned seven million books and hosted events attracting more than 300,000 people.
Celebrations for the 10th anniversary will culminate on Saturday, July 2 when The Hive hosts a day of free, fun activities for families including circus skills, comedy performances, a giant marble run and the opportunity for children to work with a local artist to create a piece of artwork to mark the celebration.
Hannah Perrott, assistant director for Communities at Worcestershire County Council, said: "The Hive has reimaged what a library should be in the 21st century, connecting and engaging communities, creating opportunities and promoting a love of learning.
"By working together, the university and county council teams have realised their shared belief that books, services, events and spaces should be equally available to everyone and created a cultural, learning and information centre of excellence."
The striking Hive building has won numerous awards for its design, sustainability and provision of inclusive services over the past decade. Its distinctive roofline, featuring seven irregular cones, mirrors both the nearby Malvern Hills and the kilns of the City's Royal Worcester Porcelain works.
Visit www.thehiveworcester.org/hiveat10 for more information.