COUNTY politicians swapped Parliament for the pitch in a bid to help tackle loneliness and highlight the benefits of walking football.
Mid Worcestershire MP and Sports Minister Nigel Huddleston visited Age UK Herefordshire and Worcestershire's walking football group on Friday (June 17) during Loneliness Awareness Week.
And he was joined on the pitch by Worcester's MP Robin Walker for a friendly game to see first-hand how walking football can help older people feel less isolated.
Age UK Herefordshire and Worcestershire's walking football group is part of the wider Age UK Walking Football Programme, in partnership with the Football Association and Sport England.
The programme helps older people in communities across the country to keep active and to improve physical and mental well-being through playing the game, which is particularly important now, following the pandemic.
During the height of the pandemic, Age UK found 1.2million older people across the UK said that they often felt lonely.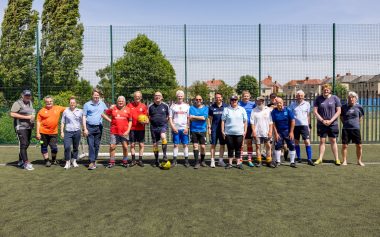 Richard, who is in his 60s and is a member of Age UK Herefordshire and Worcestershire's walking football group, said: "I've made new friends and gotten to know more people. We all stop for a coffee after and have a chat.
"For those who are getting on or may have a lost a partner, it helps with socialising. Plus, there's a fitness aspect, as you get older, you got to use it or lose it.
"When I first started playing, I felt unfit, so I've started going to the gym. For those who live alone or don't have a lot of contact with others, this helps them make new friends. If someone doesn't turn up for a few weeks, we reach out on our WhatsApp group."
Also from the group is Ken, who is in his 80s. He said: "I play at least twice a week. I started five years ago and I've always played football and managed teams and I played to a reasonable standard.
"It's handy being in the morning so you still have the rest of the day. My love of football brings me back and at my age, if I can keep going that's fine and if I stopped, it would be hard to get going again.
"I like the camaraderie as well, I lost my wife and two partners and my current partner lives away, so the football helps."
Mr Huddleston said: "Age UK's Walking Football Programme is a fantastic way for communities to come together and tackle loneliness.
"It was great to see its inspiring work helping older people make new friends while having fun and getting exercise."
Visit www.ageuk.org.uk/herefordshireandworcestershire/activities-and-events/walking-football/ or call 0800 008 6077 for more.