GIRLS from 11 Worcestershire secondary schools seized the opportunity to get active and take part in the Worcs Girls Can Festival.
More than 100 girls aged from 11 to 16 years old descended on Worcester's Whitehouse Hotel to try their hand at non-traditional activities including glow dodgeball, yoga, Glow Beatz, meditation, and functional fitness.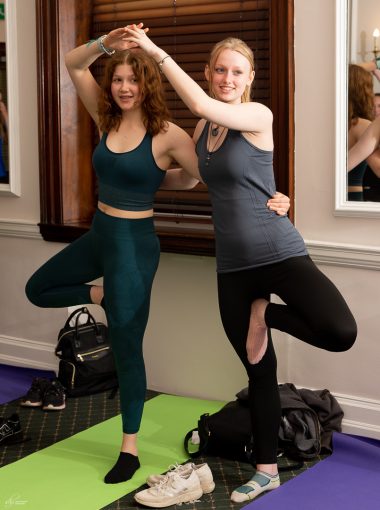 The Active Herefordshire and Worcestershire event formed part of the localised version of the national This Girl Can campaign, set out to encourage women and girls to get active in a way they enjoy, regardless of their shape, ability or what they look like.
'Girl Talk' sessions were delivered throughout the day helping to provide a space for girls to talk openly around taboo subjects such the impact of the menstrual cycle, gender stereotypes and more.
The small groups of participants were each supported by Worcs Girls Can champions, sixth-form leaders from South Bromsgrove High and Tudor Grange Worcester who provided encouragement to younger pupils whilst improving their own leadership skills.
According to the Active Lives Children and Young People survey, more than half of children – 55.4 per cent – do not currently meet the Chief Medical Officer guidelines for physical activity, of 60 minutes moderate intensity activity per day, with more inactive girls than boys.
The campaign was set out to target those young girls least engaged in school PE lessons, and in any out-of-school physical activity, with the aim of providing them with the experience to learn what activities they enjoy.
One teacher from a school which attended hailed the day as 'just incredible', 'exceptionally empowering' and a 'memorable occasion in their lives' while another said every girl from their school had found a new activity to enjoy.
Sarah Milward, project officer for Children and Young People at Active Herefordshire and Worcestershire said: "For so many girls Worcs Girls Can not only provided them with an opportunity to try new activities in non-traditional, casual and comfortable environments but to talk openly about the barriers which prevent them from being active, such as the menstrual cycle, friendship influences and support each other during the Girl Talks."
"It was great to hear girls talking to their teachers about how they can use their experiences from the festival to help shape PE back in school, and even better hearing back from the teachers on how they, following the event, are reshaping their PE lessons to engage those who are currently less engaged in PE"
E-mail activehw@worc.ac.uk or visit www.activehw.co.uk/2022-school-campaign for more.