CHILDREN and families dressed as wild creatures were among those who created a colourful spectacle as they joined a 'Hope for Nature' procession on the Malvern Hills.
Led by the impressive 'Coat of Hopes' – on display recently at Ledbury Poetry Festival following its role last autumn in the 500 mile walk to COP26 in Glasgow – the procession made its way from Worcestershire Beacon down into Great Malvern via St Ann's Well on Saturday (July 9).
Hosted by Extinction Rebellion, the Hope for Nature procession raised the alarm and appealed to governments around the world to address the global loss of wildlife caused by human actions.
Hope was invested especially in the forthcoming COP15 global conference on Biological Diversity, when world leaders will gather in Montreal, Canada in December; and in the Climate and Ecology Bill currently passing through the UK parliament.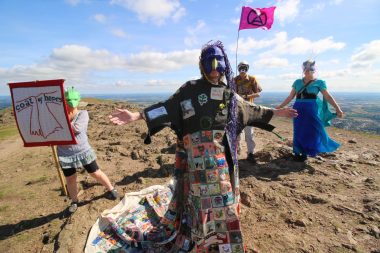 Gathered in Priory Churchyard at the end of the procession, the crowd was inspired by speeches from local activists such as ecologist Johnny Birks who offered motivational ideas on rewilding gardens, wildlife-friendly consumer choices and non-violent activism as a means to achieve change.
Mary Turner of Colwall Greener and Colwall Orchard Group gave hopeful examples of local actions and more ideas for improving the future for wildlife, and offered ways to 'alchemise fear into active hope'; and Buddhist teacher
Satya Robyn explored her journey from hopelessness to hope and the important roles played in her journey by a spiritual connection with our planet and activism for nature.
A mass die-in of the assembled 'creatures' occurred during the speeches until – to emphasise the message of hope – they were revived by the appearance of the Coat of Hopes and the Rainbow Guardians, a local environmental performance group who bring silence, strength and serenity in an array of beautiful colours
Isabel Jones of Extinction Rebellion's Malvern Group and current custodian of the Coat of Hopes said: "We know it (our wildlife) is in serious trouble, locally and globally, and this procession spreads a message of hope that we humans are capable of changing the ways we live so as to take pressure off the natural world.
"But we need urgent action and leadership from those in positions of power to make the really big changes; individual changes in lifestyle, though welcome, are nowhere near enough."