HEARTFELT tributes have been paid to much-loved comedian and writer Barry Cryer who has died at the age of 86.
In a career spanning more than five decades, Cryer wrote for The Two Ronnies, Bob Hope, Tommy Cooper and Morecambe and Wise.
He was also a star of the airwaves and the stage in his own right, including on BBC radio panel shows like Just A Minute and I'm Sorry I Haven't A Clue.
In a statement, his son Bob said Barry died peacefully with his family around him.
Writers, comedians and broadcasters have been among those to pay tribute to the much-loved British icon.
Actor Robert Lindsay wrote: "Oh Barry not now We needed your warmth generosity and your humour at this time. The only bad timing you've ever made. Light up the heavens for us mate x"
Rob Brydon shared this tweet and said: "At my birthday party a few years ago, so many came away from that night delighted to have met him."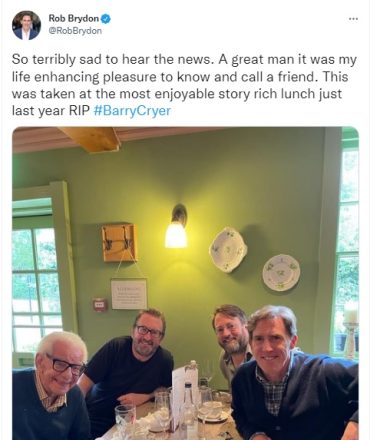 Countdown's Susie Dent said: "Word of the day is 'boffola': an uproariously funny joke, or a full-on hearty laugh. I'm not sure the word 'boffolist' exists yet for one who delivers boffolas every time. When it does, it belongs to Barry Cryer."
While Stephen Fry said: "Such sad news, one of the absolute greats of British comedy, Barry Cryer, is no more.
"A glorious, gorgeous, hilarious and gifted writer and performer who straddled all the comic traditions. Universally beloved … farewell, Baz"