In these post-Covid days when so many businesses are closing down, it's a delight to hear of new local businesses setting up shop and one such business is Breedy's Auto Diagnostics and Repairs Ltd in Malvern.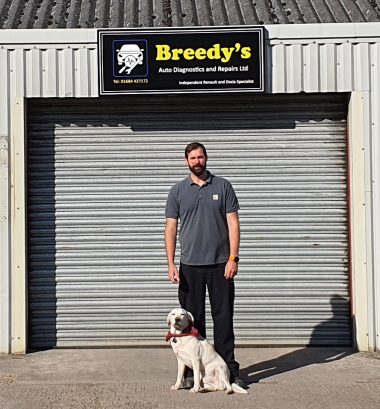 After being made redundant from Renault, master technician Christopher Breed has set up his own mechanics shop in Malvern and the rave reviews are already coming in.
"It's something I'd been thinking about for a while so it was the perfect opportunity to go it alone and do it my way… really focusing on providing a top quality, second to none service but also with that personalised feel."
Having worked as a Renault master technician with over 20 years experience, Christopher knows how important integrity is in the car industry. He adds: "I think it can be very intimidating for a lot of people when they have something wrong with their car especially if they don't know much about it. You certainly don't want to get ripped off.
"You want to be given all the options and want a really honest, reliable service. That's what I'm here to provide."
Now specialising in Renault and Dacia, as well as all other makes / manufacturers, Christopher promises a friendly yet professional service to everyone who steps through the door.
Equipped with top of the range dealership diagnostics, special tooling and many other leading brand name diagnostic tools, Breedy's can perform all types of work including full diagnostics, services, cambelt replacement, tyres, MOT repairs, air conditioning, clutch, engine and gearbox repairs, batteries and electrical faults.
"We've got all the top equipment but we're still very much a local, family business. My partner is on the front desk and we've got a nice waiting area where you can enjoy a coffee.
"We want to become a trusted, integral part of the community." 
One happy customer just wrote on Breedy's Facebook page: "Thank you Chris for carrying out the service on our Volvo. What a difference! She's towed our caravan brilliantly. Highly recommended!"
To support Breedy's Auto Diagnostics and Repairs Ltd and welcome them to Malvern, book your car in on 01684 437172 and remember to use the voucher in this week's paper for a 15% discount (until 30th September 2020).