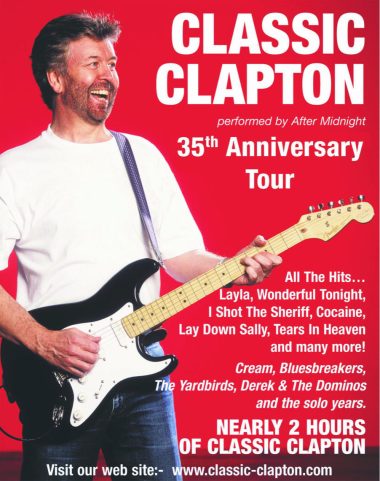 CLASSIC CLAPTON the World's No1 Eric Clapton Tribute Band featuring front-man Mike Hall will be making a welcome return to Worcester this month as part of their 35th Anniversary Tour.
They will be performing at Huntingdon Hall, Crowngate, Worcester on Wednesday 8 December 2021 at 7.30pm.
This show was previously scheduled for April 2021 but was postponed due to the Covid situation. Most of the band's eight previous concerts here sold out. Their last visit was in 2014. Fans are therefore advised to book early.
They will perform all of EC's classic songs including Wonderful Tonight, Tears in Heaven, Crossroads, I Shot The Sheriff, Cocaine and of course Layla. There will even be an "Unplugged" segment.
Tickets are £18 from the box office – Tel: 01905 611427
Click here for more details: www.classic-clapton.com
Contact telephone: 01905 611427 Call to check latest times or cancellations.